Q
, I don't think I would have believed you, in fact I would have been rather
quizzical
, and perhaps I would have
questioned
your sanity! But, you know what? Q was
quite
a doddle!
It helped that we didn't have a lot of other things already scheduled for this fortnight that we needed to work around, so we could pretty much devote ourselves to Q-related activities.
quilt
– entirely fabric – instead of one of my usual paper based pages. It didn't half take forever! In fact by the time I finished it, we weren't in Q fortnight any more, but we were when I started it, so hopefully that still counts.
Our first big Q-event was a day trip to Windsor to see the
Queen
! Well that was the idea, but it turns out she wasn't home. Oh well!
Quercus Robur
– that's the Great English Oak tree to me and you – so we did those instead of having afternoon tea with her Maj :)
We did find one
Queen
in Windsor before we set off for home – a lovely old locomotive on display near the station – built in Swindon, no less.
Q
on Windsor High Street, which was a nice coincidence.
All in all – a
quality
day out!
Earlier the same week we had also been to Legoland (2 trips to Windsor in the same week, no less, we're almost locals) - where, thanks to it being the summer holidays, the
queues
were horrendous! an hour and a half for the log flume!
The following week, Connor and I headed over to
Quedgeley
one evening to see Jay - and he took us out for dinner at the Gloucester
Quays
complex, to the Angel Chef Chinese buffet, which was delicious, can't wait to go back there!
Oh and I made a new geocaching blogger friend called Hannah, whose surname begins with
Q
:) :) :)
We were back to
Quedgeley
the following weekend, as we stayed over at Jay's for the whole weekend for a change.
We went shopping in Gloucester first, mainly for computer games, and we very nearly bought this one just because it was the only one that started with Q :) but we resisted as it was pretty pricey and we couldn't find one in the second hand section.
Quest
– I thought they would both love it, but it turned out I was only 50% right. Reece had a brilliant time charging around shooting people, but Connor found it all a bit dark and claustrophobic and bailed out after a few minutes.
At least I got a photo of them both in their gear first:
My other plan had been to take them both
quad
biking – but I couldn't find anywhere local where it was offered for their age, sadly, most places were for 14+ or even 16+ only.
We did at least SEE someone riding a
quad
the next day while we were geocaching, I guess that almost counts.
That evening we had a visit from Michelle & Tracy as they are also doing the A-Z thing and therefore needed to visit
Quedgeley
to tick off another
Q
. They had been to a Playhouse Disney event and brought us back some
quirky
hats :)
We had
quiche
and
quorn
escalopes for dinner – yum.
Q
on the end of his Smarties tube :)
The following day, we went on a different kind of
quest
– on a geocaching trail called the Coldwell
Quarks
series.
And yes, we chose it just because it had a
Q
in it, but I'm so glad we did as it turned out to be the best series we have done yet!
this
post, so won't repeat myself here. But here is a Q-related item we found in one of the churches along the trail :
Connor and I completed Q fortnight with a midweek visit to London to visit my dad, and also the
Queen
(seeing as she wasn't home when we went to Windsor).
Queen
at Madame Tussauds.
Queen
.
And the whole experience involved us standing in lots of
queues
, as the place was packed!
quotation
:
There is no use trying, said Alice; one can't believe impossible things.
I dare say you haven't had much practice, said the Queen. When I was your age, I always did it for half an hour a day. Why, sometimes I've believed as many as six impossible things before breakfast.
Next it was R fortnight, which ran from August 27th to September 9th
The big news for this fortnight was that we gained a new
resident
– Sanrio the cat –
Rio
for short.
She is an adorable little thing, she followed Ethan home one day and has
refused
to leave ever since. We have tried
really
hard to find her owners, but with no luck. So it looks like she's ours now!
Reece
with us to start with as he was up at Alton Towers with his mum and brother enjoying the
rides
. I would blog a pic but nobody took a camera – shock horror! I never go anywhere without at least my camera phone, would be lost without the ability to snap snap snap away.
For example – I used the start of R fortnight as a good excuse to stock up on my favourite tipple,
Reef
(yummmmmm) – and it got subjected to a little photo shoot before I would let myself drink any :)
Rayman
Raving
Rabbids
on the Wii, which he dragged out especially in honour of the letter R.
Rest
&
Relaxation
– and then in the evening, some
recreation
– a game of skittles!
This was organised by Jay's workplace, and so I got to meet a lot of his work colleagues, including his boss
Rachael
.
relatively
recent
acquisition for the Trust, and therefore it is still undergoing major
renovation
and
restoration
(you can see why we chose to go here for R now :) )
rooftop
level – it makes you feel a little like Mary Poppins (or Dick Van Dyke if you're a boy), as it's not a view you ever usually get of such a grand building. Or of any building really, unless you install TV aerials for a living :)
Rose
Garden, guarded by this rather handsome lion –
rooooaarrrrr
!
The NT staff here are even cool, hip and "bang on trend" enough to have hidden their own set of 6 geocaches throughout the grounds. We only found a couple today but we were very pleasantly surprised at the size of them – they were listed as size Small, but I think my caching buddies would agree that these big boxes were at least
Regular
size.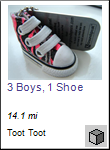 The following day, with
Reece
back in the gang, we attempted a
rescue
mission. One of our geocaching travel bugs - Three Boys One Shoe - was logged into a cache on Selsley Common near Stroud, which was
reputedly
in a really bad state of
repair
(broken lid, contents soaked, etc)
retrieve
the travel bug, and then
re-locate
it somewhere safer.
rip-roaringly
good time up on the common,
relishing
the stunning views, and watching the paragliders
running
off the side of the hill (ok they jump more than run, but that doesn't begin with R, and I'm on a
roll
here! :) )
Reece
wrote
R
+O on the hill using
rocks
- a very sweet declaration to girlfriend Olivia, awwww
Rainforest
in Berkshire – perfect :)
research
about the place before we got there (not like me!), so didn't really know what to expect, but we were really impressed with it when we got there.
There are two large greenhouses, within which they have
recreated
a convincingly immersive
rainforest
ecology. There are all sorts of animals and birds in there, some
roaming
completely free. And lots of amazing looking plants too.
roaming
lizards, birds etc out and about.
reproduction
– up close and personal. No, we didn't interrupt any of the animals in a moment of intimacy with their mate :) But we did see a giant tortoise laying her eggs, which was sooo cool. She had dug a hole, into which she laid the eggs (those things shoot out like ping pong balls lol, making a very satisfying "ploppp" sound :) ), and then presumably later on she buried them.
We went and told a member of staff what was happening, and they were excited about it too, so it must be quite a
rare
event.
I'm really glad we came here, yet another great experience that we probably would never have had if it wasn't for the A-Z Year!
Finishing up R fortnight, on the second Sunday we finally saw the
return
of ice hockey to Swindon after the long summer – it was their launch day today for the new team, so we all
returned
to the
rink
to see the new
roster
revealed
.
Some of us wore
red
shoes, to match the Swindon Wildcats kit colour.
After the skate-out, the team put on a barbeque in the garden of the nearby pub (that was very nearly
rained
off, but the sun came out just in the nick of time).
swimming
twice during this fortnight – partly for S and partly because we had some free family
swim
vouchers from British Gas, which was handy. It's a pity they were only valid for
September
– they were
saving
us £20 a visit!
After our
soak
on the first S
Saturday
, we headed over to
Stroud
, to a gallery called the
Space
, to see Jay's brother
Simon's
first ever
solo
art exhibition. Very exciting!

Bros :)
It was great to see all his art up on the walls, and we bought one for the hallway at home (a
smaller
version of the big piccie with Reece in the photo), so one of the first things people see as they come into my house now is a cornet of delicious Winstones ice cream by my
super
talented brother-in-law (kinda) (I mean he's only kinda my bro-in-law, he is definitely super talented!)
On the
Sunday
, I was supposed to meet up with my
sister
and our cousins
Susan
and Liz in
Somerset
– that would be all the girls from the
Southam
line together as all our mothers were sisters – but
sadly
that got cancelled at the eleventh hour.
stunning
of all the rooms is the
Samurai
room – full of mannequins wearing full
suits
of
spectacular
Samurai
armour. The dingy light, and the way their masks all seem to be
staring
at you, make this room very
spooky
!
showing
them how to
spot
evidence of the various animal occupants of the area – each display showed the animal's tracks, plus a model of their droppings (I'm resisting the temptation to use the sh** word, S fortnight or not!), complete with the appropriate
smell
!
They had to
sniff
each one and mark on the
sheet
which one
smelled
the worst :)
Sunday
roast, a games tent where we found a vintage
Snakes
and Ladders game to play, and a really cool
second
hand book
shop
, where we bought some bargains, like a massive Art Attack book for only £1.
second
S weekend, we had big S-related plans. We were going to visit the world's most famous
stone
circle at
Stonehenge
, and also Old
Sarum
castle.
As we drove down towards
Salisbury
, however, we hit really bad traffic. The M4 was closed because of an accident, and it seems that everyone and his dog had diverted down the tiny little road through Marlborough, and we pretty much
stopped
moving altogether.
squished
(but I guess that's because it isn't open very often so everyone has to come at once). And we were lucky enough to hear the bells ring from the church for the first time in 70 years, as a new
set
of bells has only just been installed.